Our Staff
Karen Hannaford, Founder & Co-Owner
Karen Hannaford is the proud Mom of her two sons and their wives. She is a graduate of Michigan State University, with a major in Art History, and minors in Marketing, Psychology and German. Karen introduced her boys to golf at an early age in the backyard of their Michigan home. Upon moving to Florida, she saw how much her sons loved the game and did everything she could to support their dreams.
In July 2007, she started Premier Junior Golf Tour. Karen started the Tour not only to help provide a platform for her sons to succeed in junior golf and in life, but to help as many other families as possible to do the same.
Today, the PJGT is an organization owned and operated by Karen and her son, Matt Hannaford. The PJGT is best summed up by our Mission Statement. We're proud to be a family business dedicated to being the best junior golf vehicle for helping other junior families succeed in their golf dreams.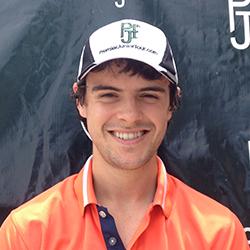 Matt Hannaford, Co-Owner
Matt Hannaford is the son of the founder of Premier Junior Golf Tour, Karen Hannaford. Matt is 25 years old and married to his beautiful wife, Aspyn. He is a graduate of Luther Rice College & Seminary, with a B.A. in Religion/Ministry. Matt was an accomplished junior golfer before taking his career in a different direction. He competed in the '07 U.S. Junior Amateur, many AJGA events, was a champion on the FJT, and won Player of the Year on the PJGT several times.
He is now a Co-Owner of Premier Junior Golf Tour. He helps organize and run PJGT events. He also is in charge of all web design, graphics, email, and social media communication. Matt loves the game of golf and loves being able to help provide juniors today with a high quality tournament experience, from start to finish.